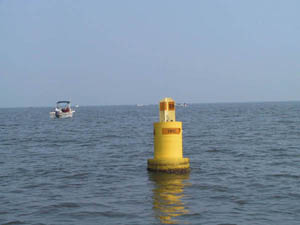 Yellow VMRC Buoy
Locating Artificial Reefs

&nbsp

&nbsp

&nbsp

&nbsp

Artificial reef sites on navigation charts may be described with the words "Obstruction", or "Fish Haven".



Global Positioning System (GPS) positions are used to indicate the exact placement of reef material or mark the center of an artificial reef.



Yellow VMRC buoys are also placed near the center of most Chesapeake Bay artificial reef sites.
Igloo Model
&nbsp
&nbsp
History

&nbsp

&nbsp

&nbsp

&nbsp

Private sector artificial reef construction in the 1950s led to the eventual development of a state supported effort in the early 1970s. As did its predecessors, Virginia's Artificial Reef Program relies upon "vessels of opportunity" and scrap materials as mainstays for reef construction. Between 1974 and 1977, six Liberty Ships were sunk on off-shore reefs. Since 1976, over one half million tires in various configurations have been placed on sites in Chesapeake Bay and the Atlantic Ocean.
In the mid 1980s, the program became involved in the development of its first specifically designed pre-fabricated reef structure, the concrete "Igloo." By December of 1991, approximately 100 of these units were in service.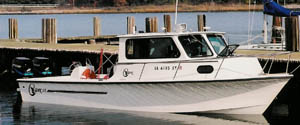 Artificial Reef Work Boat
In the late 80's and early 90's, Virginia's program produced a second designed structure, a concrete tetrahedron. Past monitoring efforts have consisted of research involving the design, siting and biological characteristics of test structures, development of CPUE and general user data, and pre- and post-deployment stability surveys using side-scan SONAR. Future projects will center on determining the cost effectiveness of designed structures vs. materials of opportunity, as well as a review of overall program direction; i.e., evaluation of potential afforded by alternate schemes of habitat development.

Side-Scan Tow Vehicle
The side-scan tow vehicle is used to send and receive the signals to produce the image.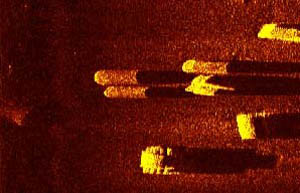 Pipe and Piling
Side-Scan Image
For general information about side-scan imagery visit Wikipedia, the free web encyclopedia. (The Commission is not responsible for the content of other websites.)
For more information on Virginia's Artificial Reef Program, contact Alicia Nelson at (757) 247-8155 or by e-mail at Alicia.Nelson@mrc.virginia.gov.